2023

Translational Support Workshop 2023 - translation of your research to clinical practice
Location: Seminar Room, Biomedical Sciences Building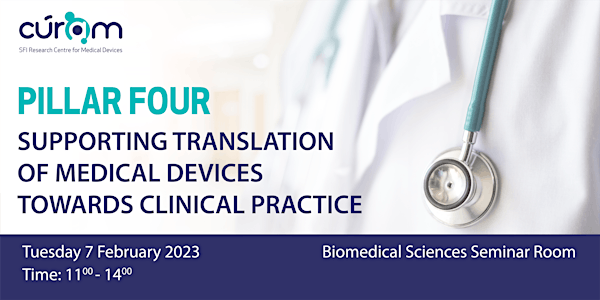 An introduction to the supports available to CÚRAM FIs and researchers for the translation of your research to clinical practice.
See the schedule of speakers below.
Venue- Biomedical Sciences, University of Galway
Tuesday 7th February (11am to 2pm)
Lunch will be provided.
Please RSVP to book your place here - https://www.eventbrite.ie/e/translational-support-workshop-tickets-523595768037
Programme Schedule
11:00 Opening address - Prof. Matthew Griffin
11.:05 The Lily Device: Successful Clinical Translation to Clinical Trials- Dr. Ellen Cahill
11:20 Health Technology Assessment (HTA) for clinical translation - Prof. Caitriona O'Driscoll
11:35 Regulatory Readiness Level (RRL) for Medical Devices - Dr. Elaine Harris
11:50 Health Economics - Prof. Paddy Gillespie
12:05 Coffee break
12:25 Clinical Trial Design - Dr. David Keane
12:40 Entrepreneurship - Prof. Jonathan Levie
12:55 Biostatistics - Dr. Davood Roshan
13:10 Manufacturing - Prof. Gerard O'Connor
13.30 - 14.00 Informal lunch and networking opportunity.
We look forward to seeing you at the event.
For further information- Email: keanedd@universityofgalway.ie
From
11:00 Tuesday,
7 February 2023
to
Tuesday,
7 February 2023
Latest Press Releases